'N Love Victory Pin/Pendant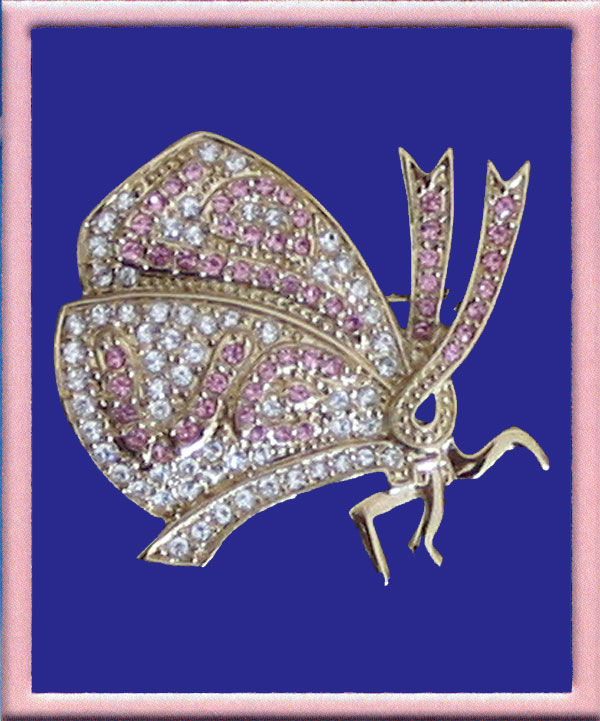 Click to enlarge photo
The butterfly is a mystical magical creature belonging to the earth and sky. In my design, the head and antennae of the butterfly form the inverted breast cancer ribbon. I wear the ribbon upside down because the uplifted arms of the ribbon symbolize a reaching upward to the unconditional and infinite love that God has for each of us. The arms of the ribbon are in the shape of a "V" for victory over breast cancer.
The colourless eye of the butterfly reminds me of the oceans of tears shed throughout the breast cancer journey. The wings are in the shape of a heart because 'NLove we support those who live with breast cancer, 'NHeart we remember all those who are no longer with us. Breast cancer often leaves its victims asymmetrical much like the shape of this butterfly. The butterfly's legs are dynamic, representing the embracing of life.
The butterfly symbolizes the metamorphosis women undergo when diagnosed with breast cancer. The transformation may bring with it renewed spirit and hope, an opportunity to look at life anew.
There is an element of surprise in finding the word "LOVE" intricately blended into the design pattern of the wings. It is my hope that the butterfly will generate a contagious movement of LOVE from me to you, and to each other.
This pin/pendant is dedicated to all people, especially those who live with adversity. May they soar on the wings of faith, hope and love.

Click here for French translation
Copyright Francesca losca-Pagnin 2003
'NLOVE pin/pendant is gold-plated with genuine crystals