An Evening Party 'NPink Book Launch:
'A Night To Remember' May 6, 2004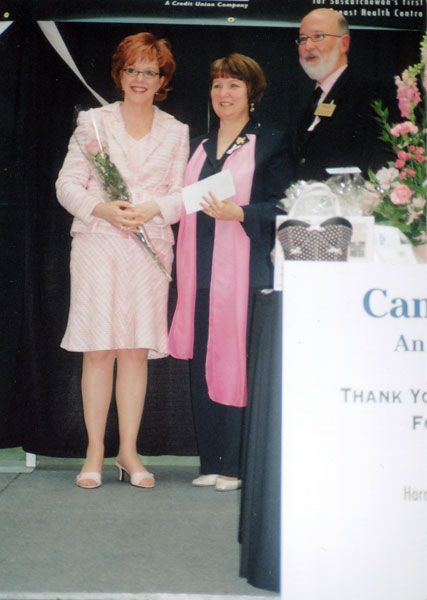 Concentra Financial President and CEO Myrna Bentley, presented a cheque for $42,000 to the Campaign 'NPink.
Pink balloon bouquets, pink floral arrangements, and pink fashions transformed the Atrium of Saskatoon City Hospital into a pink paradise on Thursday evening, May 6, 2004. As Italian music filled the air, guests mingled and enjoyed pink refreshments as Francesca greeted them and signed copies of her book. Following words of welcome from City Hospital Foundation Executive Director, Randy Kershaw, donations were presented from many sponsors and businesses.
The candle lighting and ribbon cutting ceremonies were moving and inspirational. Hostess and author Francesca Iosca-Pagnin expressed gratitude to everyone for helping to make her dream of a Party `NPink come true. The program concluded with the voices of some 600 guests singing the words to 'That's Amore'. The book signing lasted until 10:30 p.m. to accommodate the long lines of supporters. Thank you, Saskatchewan, for making the Evening/Party `NPink a night to remember, as well as an outstanding success!
Irene Danaher
Executive Assistant
An Evening Party 'NPink Book Launch: 'A Night To Remember' - May 6th, 2004