Dossier

1998, 1999, and 2004 $610,000
was raised in
support of Breast Health in our province.
Thank you Saskatchewan!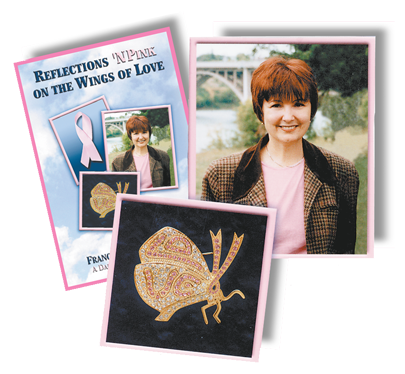 1994 - I was diagnosed with breast cancer. I had lumpectomy surgery followed by chemotherapy and radiation therapy. I wrote a proposal entitled "Fighting Back Through Education", and presented it to the Cancer Society, the local Public Health Board and the Catholic and Public Boards of Education in Saskatoon, Saskatchewan, where I live. With the approval and endorsement of those agencies, I began a schedule of public presentations on the subject of breast cancer.
1996 - November 21, 1996 - Canadian Red Cross Society: Certificate of appreciation in recognition of community services rendered on behalf of the Canadian Red Cross Society.
1994 - 1997 - I was privileged to speak to many groups. Among them were the Saskatoon Churches and Schools, Knights of Columbus, Saskatoon Rotary, Girl Guide Convention, the Insurance Association, Law Society, Travelers' Groups. In all, I did 100 presentations on the subject of breast cancer. "Fighting Back Through Education" provided me with the vehicle to share my experience in the hope that it would help other women in the fight against this insidious disease known as breast cancer.
1998 - July 1, 1998 - James P. Mahoney Institute of the Family: Award recipient of grant presented by Bishop James Weisgerber for 'Breast Cancer Initiatives and Educational Support', for women facing cancer.
1998 - 1999 - After much networking and partnering with individuals and organizations within the community, I was ready to bring the first public-wide events for breast cancer to Saskatoon. The fundraiser walks of 1998 and 1999 were a huge success and unprecedented in terms of money raised , sponsors acquired, and participants involved. The people of Saskatchewan were outstanding in their support of breast cancer. Some of the funds raised from the 1998 Walk were used to buy an apheresis machine for the Saskatchewan Stem Cell Program. Women no longer need to travel out of province to have stem cell transplant treatment. The two walks raised $260,000 for breast cancer initiatives in Saskatoon.
2000 - Fall of 2000 - My imagination was captured by a bigger dream: the idea of raising funds to establish a One Stop Quick Diagnosis Breast Health Centre in Saskatoon. In the October issue of Chatelaine magazine I had read about Breast Health Centres. These centres address women's health concerns quickly, efficiently, using state- of-the-art equipment. I learned that Ontario, Manitoba, Alberta and British Columbia had these centres, and so I began to initiate bringing a Breast Health Centre to Saskatoon for the women of Saskatchewan. Such centres accomplish in days what most clinics accomplish in weeks.
2001 - 2003 - I was diagnosed with recurrence in January 2001 and had mastectomy surgery. Initiatives that were in place for a Breast Health Centre sadly had to be stored away. During my recovery, I wrote "Reflections 'NPink On The Wings Of Love".
2004 - I was delighted to learn that a breast centre was in the works for the women of Saskatchewan. Saskatchewan's First Breast Health Centre is to be located at Saskatoon City Hospital. I met with board and executives of Saskatoon City Hospital and submitted my proposal for a Campaign 'NPink. The proposal for this Campaign 'NPink has been met with great enthusiasm by both hospital administrators, and the Saskatoon media/press. My dream of 2000 was now going to become a reality four years later!
2005 - May, 2005 - Received the Spirit of Saskatchewan award in honour of the Saskatchewan Centennial.
2005 - June 2, 2005 - Honoured to receive the Community Builder Award at the YWCA Women of Distinction Dinner that was held at Saskatoon Centennial Auditorium. It is my privilege to continue to meet and to work with so many wonderful people in this province who are selfless in their dedication to building better communities.
2005 - September 9, 2005 - Nominated and presented with the Commemorative Medal for the Centennial of Saskatchewan by the Honourable Dr. Lynda M. Haverstock, Lieutenant Governor of Saskatchewan. This medal truly belongs to the hundreds of people throughout our great province, who embraced and supported Campaign 'NPink.
2006 - May, 2006 - The Breast Health Centre opens its doors to serve the women of our province. Campaign 'N Pink contributes a grand total of $350,000 to the Centre for the purchase of equipment. Thanks to all for making a survivor's campaign a phenomenal success.
2015 - October 15, 2015 - Induction into the Saskatoon Council of Women Hall of Fame.