About the Book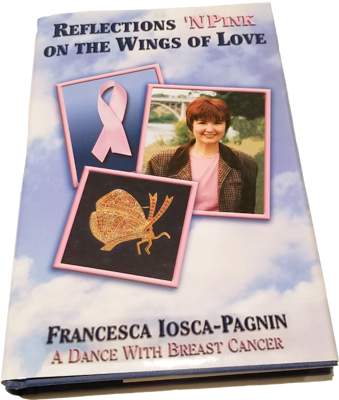 "Methodic, deliberate heat surged through my body with movement so precise and calculated, I knew intuitively that something not-of-this world was taking place...."
Reader's Comments in the Saskatoon StarPhoenix May 22, 2004:
"I will definitely tell anyone and everyone how this book is a "must read" and one to be kept to reread in the future.."
"I was totally moved by Francesca's story.."
"What a wonderful story and one that definitely gives women everywhere hope and comfort.."
"I was totally riveted and could not put the book down.."
In 2001, Francesca Iosca-Pagnin received the devastating news that the breast cancer she was treated for seven years prior had recurred. She made the painful decision to have a mastectomy, but in the meantime, a visionary with the gift of healing hands was asked to pray for her.
It was the beginning of an incredible spiritual and physical journey that would change Francesca's world forever and create an intense awareness of God's presence and power in her life.
The account of that journey, taken from Francesca's recollections and the journal she kept throughout her experience, offers an upbeat message of faith, hope, love and encouragement for all people, especially those facing turbulent times.