Campaign 'NPink raises $350,000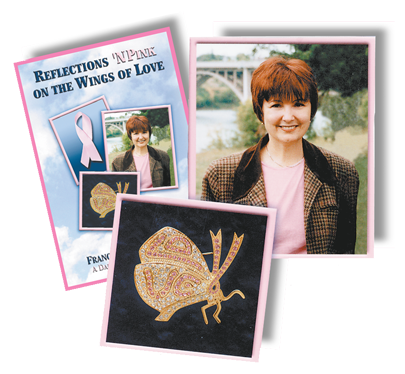 A breast cancer survivor's campaign for Saskatchewan's First Breast Health Centre located at Saskatoon City Hospital.
Francesca Iosca-Pagnin wrote book "Reflections 'NPink On The Wings Of Love"
Francesca's son, Rob, designed the pin/pendant 'NLove.
All proceeds $350,000 from the sale of book and pins went toward:
- Mammotome Vacuum Biopsy System
- Mammovision Elite CCD Digital Imaging
- Mammosound Integrated Ultrasound Device
For Saskatchewan's First Breast Health Centre. This was made possible due to the generous sponsorship of Concentra Financial who paid for 3,000 books and 5,000 pins.
1998, 1999, 2004, Iosca-Pagnin raised over $600,000
for Breast Cancer initiatives (See Dossier).
Website by: Darren Lorenzo-Shearer